Cork Tennis Blog
Welcome to the Cork Tennis Blog.
This blog will, hopefully, keep you up to date on the tennis scene in Cork, both socially and competitively. Whether you are new to the game or an experienced player I hope you find the information and posts here, useful and interesting.
As well as local tennis news, there are also some very good articles written by local players and I am always looking for people to contribute to the blog, so don't be shy.
Please also feel free to comment on individual posts, or alternatively through the comment box on the right of the blog. I hope you enjoy reading through the blog and that it was of some use to you.
Enjoy your game, Rob

Friday, March 10, 2017
Well its been a while since I lasted posted something in here, so apologies about that. It is difficult to keep up to date with what's happening at home on the tennis scene but thankfully this year I am getting to play more tennis.
With an amazing tennis facility here in Doha, 19 hard courts, 10 mini/midi courts, it was surprisingly difficult to find people to play against. There is no club structure like we are used to, so it wasn't a matter of joining a club and meeting people.
Shortly after we arrived there was one of the big local tournaments on. This is sponsored by the QTF (Qatar Tennis Federation) and a big hotel here called The Intercontinental. Really good prizes, so the best players the country has to offer were playing. The standard was good, I would say on a par with the big events in Dublin.
Here I met a Spanish coach, who works for the QTF. He was a former ATP tour player and he filled me in on how things worked out here. I got to play him once at a different venue but because he works for the QTF he cannot play with anyone other than another coach at their facility, so I spent the next few months trying to organise games and not really finding people of a decent standard.
I did play in a very well organised event, run by the Filipinos. It is a team event, which takes place every Friday night for 2 months. There is a very big Filipino community in Qatar and they set up teams based on the area they live in. It's taken very serious. Each team is only allowed one non Filipino and I was it.
Played some very good matches and really enjoyed it and I was asked to play again this year. So I am now an honorary member of the Filipino league.
The standard in the league can be varied, but the standard of the Filipino players here is quite good. Most of their top players come here to coach. The guy in this picture with the glasses, no not me! he was ranked as high as 5 in the Philippines and has some amazing touches.
While there is a very big tennis community in Qatar there is no structure to it. The federation here only runs things for Qatari's apart from maybe 4 open tournaments in the year. Trying to find out when these are on is the best kept secret in the Middle East.
If you want to get your racket strung here you can go to one of the big sports stores and wait 4 days for the privilege. There are some individuals stringing but the quality of work isn't great and the strings are cheap imports.
So after going home for the summer to Cork I decided to bring back my own machine this time around. I have now set up my own stringing room on the third floor of our house and happy to say I am very busy.
I now work with the brand Kirschbaum, as their official stringer for the Middle East and have a large selection of their strings to offer.
On arriving back in Doha in September I was contacted by a few other players about playing some matches. Between my contacts and their contacts I set up a singles league which we call The Doha International Tennis League (DITL). It really is international with players from South Africa, France, Spain, Pakistan, Turkey and more. This went off very well and we are now a couple of weeks into DITL 2 where we have added another 8 players and increased the standard. This has definitely helped with getting some more matches and also helped with my stringing :)
During my time in Cork during the summer I decided to upgrade my stringing skills and so I went to England to do 2 exams with the 2 largest stringing associations, the US Racket Stringers Associations (USRSA) and the European Racket Stringers Associations (ERSA). They have a level called Pro Stringer or the next level up which is a Master Racket Technician (MRT). I'm happy to say I qualified as an MRT with both organisations.
Stringing really has become a passion/obsession of mine and the more I learn about it, the more I realise how an important part of the game it is and how important it is to give the right advice.
There are plenty of people around the world who string rackets but a very small percentage do it properly.
At the end of this month I head to Dusseldorf for the European Symposium and no doubt I will learn a lot more here from some of the best stringers in the World. A lot of the guys here string at the Grand Slam events, maybe someday!
So all in all Qatar hasn't been a bad move. and to top it all off they host an ATP and WTA event every year with some of the best players in the world in attendance. Last years final was between Djokovic and Nadal, this year Djokovic and Murray, how bad!
I would like to keep this blog as active as I can so if anyone has news, information on anything tennis related in Cork please feel free to contact me.
Thank you and see you all in the summer.
Understanding Polyester Strings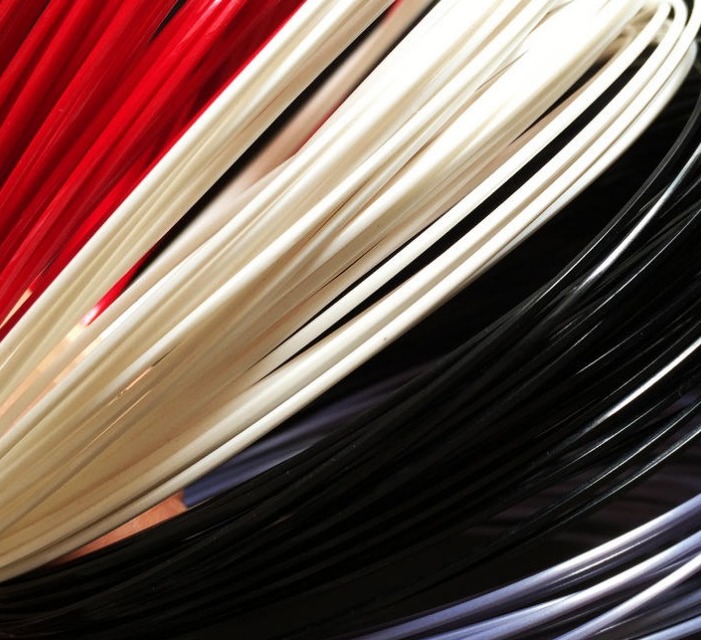 The arrival of polyester strings has been one of the major developments in tennis in recent years. It took a while for all professionals to change over from natural gut, but now nearly every professional player uses polyester in their string setup.
This may be as a full bed of polyester or in hybrid with natural gut.
To a professional player, a person who is training everyday and who hits the ball with incredible power, the benefit of polyester has been increased control and greater potential for spin. It has helped bring their game to a new level.
For the club/social player the benefits are not the same. The majority of club players do not understand how polyester performs and are generally using it for the wrong reason or through bad advice or lack of advice.
Polyester strings are advertised and sold as a string that gives you more control, more spin and excellent durability. All of these things are true, if the player is capable of playing at the level required to achieve these benefits.
What we don't hear, too often, is that polyester is powerless, that you are more prone to injury, that it can be expensive and that its performance level (loss of tension) drops the quickest of all strings.
I definitely see the benefit of polyester, but what this piece is about is to help players 'Understand Polyester'. To weigh up the Pro's and Con's of the string and then decide if it is the best choice for you or not!
Here are some points to consider:
Why do the pro's use it?
How does it perform?
What happens at impact and afterwards?
Durability versus Playability
To read the full article follow this link: